Character
God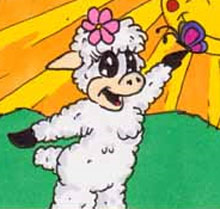 | Gender | Species |
| --- | --- |
| Variable | Sheep |
| Status | Affiliation |
| Immortal | |
| First Appearance | Last Appearance |
| Page 1185 | Page 1282 |
| Current Plane | Former Planes |
| Heaven | |
Creator
David Hopkins (sort of)
Although often referred as 'He' or 'She', God always seems to look feminine and is a Sheep. God is the creator of the Heavens and Earth for the purpose of mankind. God has a happy-go-lucky attitude, and in one arc mentions that She/He "loves everyone" after asking Central if she is in love with a man or women. When Central says it's a man, God says, "Too bad, I was gonna ask you for her number." All the while, Central had been referring to God as 'Mom".

God is also the parent of Satan/Lucifer/The Devil. In one arc, he calls God 'Dad' while yelling at Him in vain of losing a bet.

God makes a few appearances in the webcomic.
Canon Appearances
Edit
Ad blocker interference detected!
Wikia is a free-to-use site that makes money from advertising. We have a modified experience for viewers using ad blockers

Wikia is not accessible if you've made further modifications. Remove the custom ad blocker rule(s) and the page will load as expected.